---
International Jujutsu seminar
"Prilep 2004", Macedonia
---
On Saturday 16th of October 2004, Dr. Ivica Zdravkovic held an international jujutsu seminar for members of several budo clubs in Macedonia. The host of the event was Simeon Stojceski sensei from Prilep, 4th Dan Aiki Jujutsu, an old friend of Serbian Budo Council and Ju-Jutsu Federation of Serbia. Also, the judo club of Goran Mickoski sensei (2nd Dan) was partially the organizer of this gathering.
Dr. Zdravkovic was running this seminar both on behalf of Ju-Jutsu Federation of Serbia (JJFS) and Serbian Budo Council (SBC). He was accompanied by Slobodan Saric (jujutsu sreferee and ensei) and Srdjan Ilic (referee, president of SBC and aiki jujutsu sensei). Also, Biljana Mirkovic from SBC assisted as judo instructor, and there were two members of Shinbukan Dojo, Aleksandar Stojkovic and Milan Dadasovic.
Seminar was held in two sessions, each lasting 3 hours. In the morning session the topic was traditional jujutsu and aiki jujutsu, while on the afternoon session the topic was sport Jujutsu under the rules of Ju-Jitsu International Federation (JJIF). Near 40 participants of seminar were exposed to large number of techniques, traditional japanese terminology, concepts and technical and tactical advises important for Duo system and Fighting system of JJIF.
On the end of this successful and most friendly meeting, all participants were given the certificates for participation, and Simeon Stojceski sensei was inaugurated to National sport jujutsu referee on behalf of JJFS and SBC.
Squad from Serbian Budo Council would like to express the deepest gratitude for hospitality to all members of Aiki Jujutsu Club "Samurai" in Prilep, and especially to Simeon Stojceski sensei and his family, as well as to Aleksanar Spirkoski (brown belt aiki jujutsu) and his family.
We all hope to see our Macedonian friends on some future events, and the first opportunity will be Serbian Jujutsu Open, scheduled for December 2004.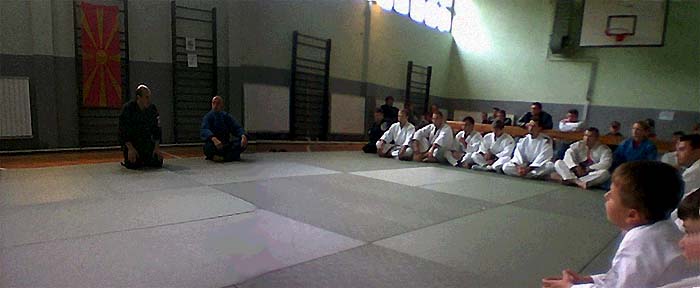 Zdravkovic sensei explaining rules of sport Jujutsu under JJIF to Macedonian budoka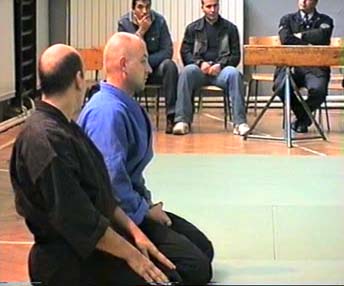 Zdravkovic and Stojceski sensei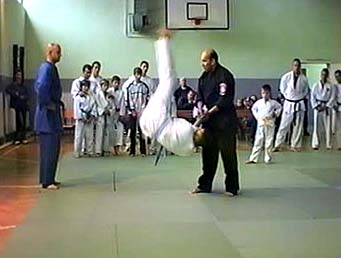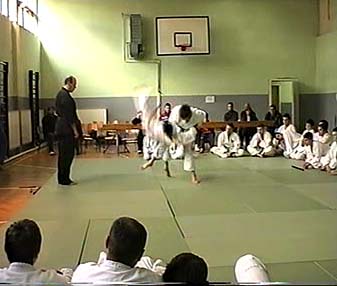 Ukemi practice and Duo system demonstration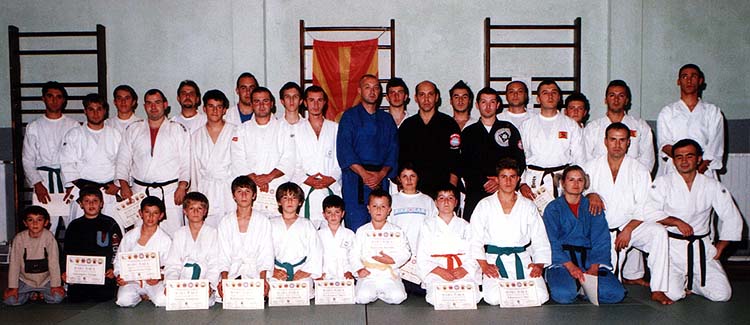 Posing with certificates for participation.
Zdravkovic sensei, SBC and JJFS are also members of MAIF, Martial Arts International Federation,
whose logo was also placed on the certificate (and is on the budogi of Zdravkovic sensei)
---
End of Page